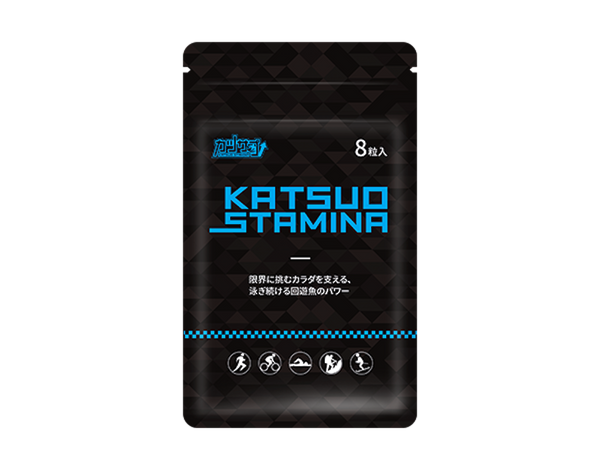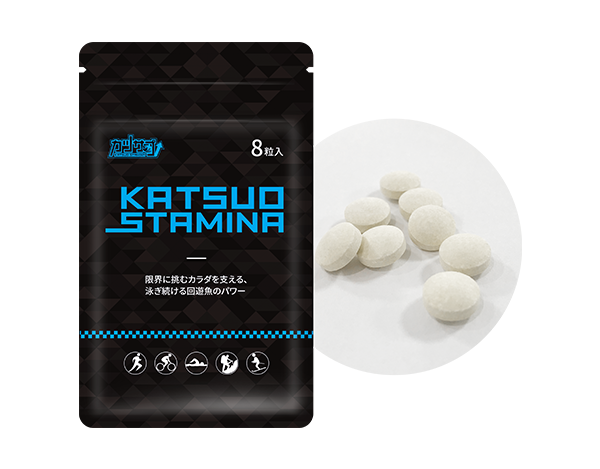 KatsuoStamina (8Tablets) Renewal✨ - Sports Supplement for Marathon, Trail Running, Cycling & Triathlons. Better Endurance, Less cramps, Faster Recovery
MIGRATORY FISH EXTRACT:
Migratory fish extract is a peptide composed of two amino acids, β-alanine and Methylhistidine. It is absorbed twice as efficiently as amino acids, and improves athletic performance. Experimental data from athletes and consumers have proven that Migratory fish extract converts lactic acid in the body into energy, reduces muscle damage and soreness (by lowering CK levels), prevents cramps, and speeds recovery. Migratory fish extract, a bountiful energy source, was used by ancient Japanese warriors. After years of research and development, we have  created KatusoStamina, which is tailor-made for improving endurance during physically strenuous exercise.
FUNCTIONAL PRINCIPLE:
As intensity of exercise increases, the biological imbalance causes a build-up in blood lactate levels, which leads to muscle fatigue and impaired performance. Lactic acids contain a large amount of unused energy, which can be utilized by the aerobic system. KatsuoStamina helps to quickly convert lactic acid build-up in the body into energy. By using our product, you will dramatically decrease muscle trauma and muscle soreness, leading to quicker recovery times and an increase in performance levels. KatsuoStamina is the perfect supplement for marathons, cross-country running, swimming, rowing, skiing, mountaineering, triathlons, ball sports and other endurance-heavy activities.
Nutrition Facts:  
4

 tablets 

(

1.6 g

)

Energy: 6.29 kcal




Protein: 0.49g




Lipid: 0.01 mg




Carbohydrates: 1.06 mg




Sodium: 0.006mg

INGREDIENTS:
dextrin, reduced maltose syrup, migratory fish extract, starch/microcrystalline cellulose, magnesium stearate, shellac
SAFETY INFORMATION:
This product is pure, natural Migratory fish extract, and can be taken by both adults and children (7 years old and above). As this product contains natural ingredients, the color and fragrance may vary. However, this does not affect the quality of the product. Store in a cool, dry place. Please consume immediately after opening package.